The biggest problem in India is that a major part of the country's vast population still doesn't understand English and hence find it a barrier to search and discover content on their smartphones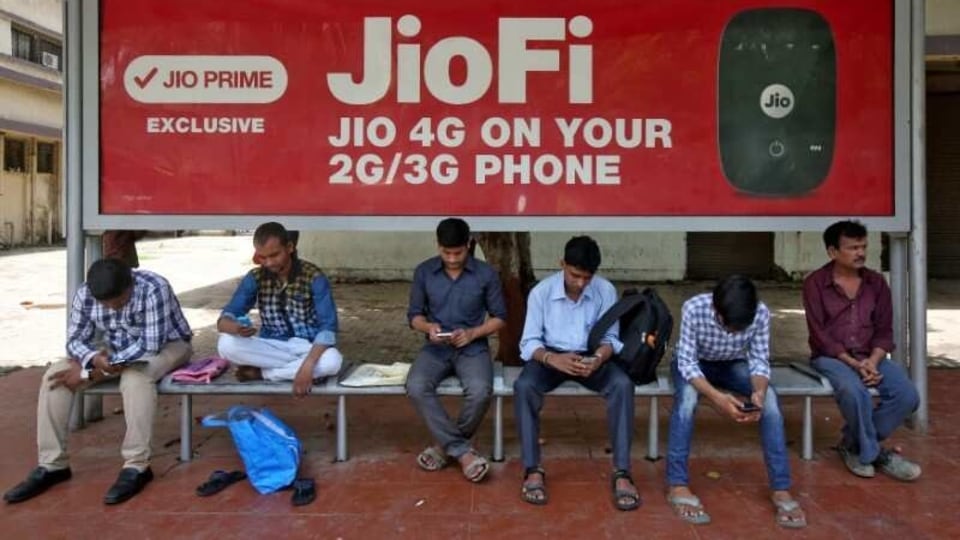 Commuters use their mobile phones as they wait at a bus stop in Mumbai.  (Reuters)
With increasing digitisation across every domain, we are certainly transforming into an app-driven economy. Today, we are used to performing various routine activities like video conferencing, online learning, team gaming, grocery deliveries, etc. using apps on our smartphones. And undoubtedly, our reliance on these mobile-based solutions are only going to pick up pace with the evolution of technologies such as AI, ML, IoT, and big data analytics, among others. But, the only concern for businesses is, how do they widen their reach in a country as diverse as India, where each of its states speak a totally different language?
According to a joint study by the Internet and Mobile Association of India (IAMAI) and Nielsen, India currently houses 504 million active internet users, including those who are five years and older. Thanks to the concerted efforts of the government, telecom and internet service providers, and smartphone manufacturers who have powered masses with mobile phones and the internet at highly affordable rates.
But the problem is, a major part of the country's vast population still doesn't understand English and hence find it a barrier to search and discover content on their smartphones. In fact, many still question why they should even use a smartphone in the first place, when they can make calls and send messages through a regular mobile phone.
This is where the role of an enhanced app store ecosystem (EASE) comes into the picture, to enable these unconnected masses to feel the power of digital services and understand how these can add enormous value to their lives.
Need for EASE: How it can bring the next billion users to the digital world?
Well, before moving further, let's first understand what EASE is. An enhanced app store ecosystem is a place that empowers app developers to create and launch apps in not one, but multiple local languages. Which means people from every corner of India will be able to consume content in the language of their choice.
Similarly, this ecosystem should also provide app developers with other important tools such as language translation services, to ensure that the content in their apps doesn't lose its meaning post-translation and everyone can understand it.
And finally, EASE should also offer various other tools to help developers analyse their app performance, create space for themselves among the crowd, and eventually get a good return out of their investment (time, money, and efforts).
The increasing role of localisation: How language-friendly content is the key to unlock the growth potential of unconnected users?
According to a report by the Telecom Regulatory Authority of India (TRAI), India has 1.15 billion mobile phone users, including 520.1 million people who reside in the rural hinterlands. Now imagine the growth potential, if these 520.1 million individuals can access content in their preferred language, and utilise apps for their daily activities – like grocery shopping, bill payments, fund transfers, or anything – as we do. Picture them coming on to the social media platforms, creating and posting content on Instagram and Facebook, chatting and sharing information on WhatsApp, and doing everything that we are already familiar with.
If you look at the power of local content being currently leveraged by users across India, you will be astonished. And here's proof –
A recent Google KMPG report says that 90% of video consumption happen through local languages, 88% of Indian language internet users believe in responding to a digital ad in their preferred language compared to English, and most importantly, 70% of Indians feel that digital content in the local language is more reliable.
National Language Translation Mission (NLTM): What does the government think about localisation?
Considering the burgeoning demand for accessing online content in vernacular languages, the government, in its recently-revealed budget, has proposed to set up NLTM to bolster the existing regional language initiatives in the country. Through this move, it aims to encourage agencies to translate even science and technology-based content into local languages, which for ages, have been consumed in English.
This proposal is a welcome step in the right direction that will help widen the reach of digital content across India, and allow more people to consume content, and use various online services in the language they feel comfortable. NLTM is a testimony to the growing relevance of local languages and holds significant potential to transform how businesses operate in India through the power of localisation.
The increasing preference of more and more Indians turning to regional content for app consumption is a huge opportunity for app developers to experiment with new tools like voice and video, and capitalise on them accordingly.
We are already living in a world that's driven by apps, making our lives simpler and more seamless than ever before. This trend will continue to mature in the coming years. Given this, app developers should strive to build more solutions that are easily accessible in various languages, and EASE can definitely help them make this a reality.
Source:  https://tech.hindustantimes.com/tech/news/need-for-ease-an-enhanced-app-store-ecosystem-can-connect-india-to-the-world-71615904483435.html